Recycling Process
We follow a thorough 4-step process to ensure that all the details are looked over with utmost care when your electronic assets are being liquidated. We provide the end-to-end services and you can count on us completely for top-grade recycling. We have highly qualified and experienced professionals who ensure that the entire recycling process is hassle-free and satisfactory to you.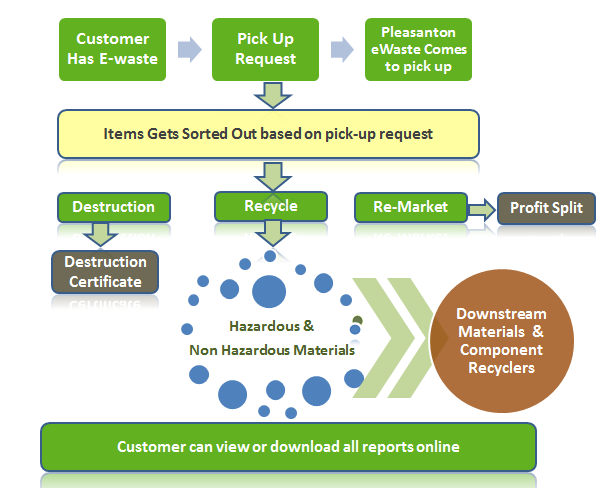 Once you have identified the waste disposal need, you can call us to request a pickup. You can schedule a pick-up time and our technicians will come for the pickup. The professionals who will visit your office or site will first sort the items and identify whether they need to be destroyed, remarketed, or recycled.
Destruction
We carry out the destruction process in an effective and eco-friendly way. Once the items have been destroyed we issue the certificate of destruction to you.
Remarket
If the products are to be remarketed then we inform you about it and give you the detailed plan. The profit from remarketing is split between us. You can also download or view the reports online.
Recycle
If the items need to be recycled then they are torn down. We do not send any item to the landfill.
Copyright © 2019-20 Pleasanton E-waste. All Rights Reserved.